What an Amazing Place to Stay
The Frisky Fish Cottage
What an amazing place to stay! The cottage is so adorable we never wanted to leave! Maria was a wonderful detailed host! We even had blueberry scones waiting for us! We would stay here again for sure! Thank you Maria!
Everything We Needed
The Frisky Fish Cottage
We had a wonderful stay at this immaculate home! It had everything we needed and was so comfortable and cozy for our visit in November. The house had great views of all the harbor activity and the tide changes were amazing to see. Our host Maria was very responsive to every aspect of our reservation. Pack a coat and hat and visit Maine in November, it's beautiful!
Comfortable, Adorable, Supremely Located
The Frisky Fish Cottage
The Frisky Fish Cottage in Machiasport is one of the most comfortable, adorable, supremely located, full of everything you need, and a whole lot of what you didn't know you needed, but upon discovery, you LOVED (like a record player, complete with incredible records, and that scratchy-take-you-back sound when you place the needle on the record…)! We LOVED this cottage. "We" included my husband and I (sleeping upstairs on the most comfortable king size mattress, gazing out on the harbor upon waking), and our good friend Jan (who slept downstairs in her own private, equally as comfortable, queen size mattress room). Jan and I spent hours sitting in the two incredibly cool and comfortable chairs by the windows looking upon the harbor (ALL the windows look upon the harbor!), drinking champagne and talking all evening, then drinking coffee and talking all morning. As it was November, it was a bit chilly to enjoy the outside amenities (but we saw they were plentiful, and can't wait to come back!), but the cozy interior with all the windows allowed us to be warm and still feel like we were outside. The kitchen is beautifully stocked with everything, including champagne flutes, beer glasses, and yummy coffee mugs (I rate kitchens by the cups that get filled with all my favorite things!)! The art and attention to detail throughout the cottage was amazing. The childrens books, the games, the quotes upon the walls and on the beds upon arrival….just all so warm and welcoming, we could have stayed forever! And we WILL be back! Thank you! xo Em (and Jonathan and Jan)
Cozy, Cute and Clean
The Frisky Fish Cottage
We loved our stay in this cozy cottage. It was windy and icy outside (Nov.) but we were so comfortable. Our host's attention to detail was very much appreciated … from the binoculars on the window sill to welcoming treats for us, as well as our dog, and fun furnishings. We like to cook when we travel and enjoyed the well-equipped kitchen. Hannaford Supermarket was convenient and well-stocked too! The harbor view and activity was fascinating. We hope to stay here again!
Maine Sightseeing
The Frisky Fish Cottage
This little cottage is perfect for relaxing in, watching the tides, and seeing the beautiful coast of Maine. Got some fresh lobsters just down the road and cooked them up. Delicious! Everything was clean and neat, a nice size lobster pot made our dinner easy. Grocery store is only about a ten minute drive into town, and make sure to have dinner at Helen's and The Bluebird Inn in Machias. A fantastic property and a wonderful experience with everything.
The most restful vacation I had in a long time.
Relaxing at the Frisky Fish Cottage
The Frisky Fish Cottage
Frisky Cottage was the perfect place for our getaway. The cottage is lovely and Maria thoughtfully left 2 delicious scones for our arrival. Our king bed was very comfortable and the windows afford a gorgeous view of the working harbor. The cottage is well appointed with all the necessities and was exceptionally clean. Linens and towels were plentiful and of good quality. The cottage is decorated tastefully, but not fussy. We were very comfortable. It felt like home. We didn't cook much, other than grilling one night and our breakfasts, but the kitchen is stocked with plenty of pots, pans, and dishes if you do! There is a fire pit and it was set up so we only had to set a match. We enjoyed sitting out there one evening. One bonus of this property is the bunkhouse. It is super cute and the perfect place for kids to hang out when they are not exploring the beach. Oh heck, grownups would love it too!
The Happiest Little Cottage on the Coast of Maine!
The Frisky Fish Cottage
We loved our stay!  The cottage was amazing, the views spectacular and the neighbors awesome!
A Treasure to be Cherished
The Frisky Fish Cottage
Nothing but accolades for this charming, well- appointed, cottage (and bunkhouse) in a fascinating setting. The imagination, thoroughness, and generosity of the owners for providing for guests visit exceeded all expectations. Decor was fun, while being practical, comfortable, and visually appealing. Amazingly well stocked kitchen for any and all cooking; even birthday candles should the need arise. Comfortable beds, lovely linens, games and fun for everyone of all ages…also bubbles, adult coloring books, turn table and records, on and on…even a folder with lists for scavenger hunts complete with bags (with list and pictures of items attached) for each player in which to collect the goodies as they are found…really nearly impossible to list everything. Working harbor and tidal changes also part of the "entertainment". The care of the owners shines bright at Frisky Fish…great communication and thorough thought to help guests be comfortable and be right at home while staying there. I loved it!!
Wonderfully Relaxing!
The Frisky Fish Cottage
We thoroughly enjoyed our two-week stay at Frisky Fish Cottage — the house was very clean, thoughtfully equipped, and comfortable. The owner was very helpful, and responded quickly to our questions. The location was perfect — right on the water, with lots to look at as lobstermen came and went throughout the day. We had a wonderful, relaxing, enjoyable time!
Words cannot describe how lovely the Frisky Fish is!
The Frisky Fish Cottage
Words cannot describe how lovely the Frisky Fish is!
The weather has been lovely!  We've enjoyed the sights, the smells and the sounds of our vacation home.  Thank you for the top of places to visit!  Robertson Sea Tours was splendid!  Helen's Restaurant had delicious food! We drove over to Quoddy Head State Park and hiked, had lunch in Eastport. Waving to our northern neighbors across the bay in Canada was also fun.
We love puffins, moose, lobster and, most of all, the wonderful state of Maine!!!
Not enough time here!! We're not going to leave!!
The Frisky Fish Cottage
Truly a magical vacation in this wonderland called Frisky Fish — the whole Maine experience is available right here…my favorite is the flowers – along the roads and here in the yard.  Ken's favorite is the ever-changing water.  We are rock hounds and came to this location in Maine for the beaches where fabulous rocks were collected – among the favorite is Jasper Beach and the beach in Starboard.
Perfect accommodations – everything we could think of needed and then some!!  Really cute decorations – kept seeing something new.
Our arrival night was a bit rainy – that would not be a problem.  But, we were greeted with "the entire area is without power!!" No reason! We made the best of things and were quickly supported by Maria – lanterns and water were supplied along with good humor (and promise of a generator if needed).  Power back on by bedtime.
Lobster rolls on Beals Island, blueberry pie from Helen's, lobster dinner at Bluebird Ranch, cocktails every night in the yard with a bonfire – did I already say magical?
⭐ ⭐ ⭐ ⭐ ⭐
The Frisky Fish Cottage
We booked a week away for some rest and relaxation.  The accommodations ⭐⭐⭐⭐⭐ !  It was amazing at how the tide came in and out – who'd have known such an occurrence happened like this — full to the brim to nothing left but mud and the birds!!  We had a great time and were welcomed by the ducks each day when we returned after our outings.
Very Comfortable and Well-Appointed
The Frisky Fish Cottage
We loved our stay. Maria was wonderful to work with and so thoughtful in her recommendations and correspondence. The cottage was perfectly situated to all of the places we wanted to visit as well as being comfortable and well appointed. Would definitely stay again. We hope to be back some time soon.
Good Communication and Well Equipped
The Frisky Fish Cottage
Maria is wonderful. So quick to communicate and the home was equipped with everything you would need. Maria is very accommodating. Could not ask for a better host!
Beautiful Treasure on a Working Harbor
The Frisky Fish Cottage
This cottage is a beautiful treasure on a working harbor. Sweet touches, so many amenities! A lovely retreat with the softest of sheets and pillow cases, perfect for families! Maria was helpful and available every step of the way. Close proximity to Finn Beach and the cottage was a true slice of heaven not too far from the local supermarket. We also loved the very local feel. And the sunrise and sunset, wow! If you're looking for a getaway, take it here.
Off the Beaten Path
The Frisky Fish Cottage
We loved the time we spent at the cottage. If you're looking for somewhere just off the beaten path, this is your place. It was fascinating watching the tide come in and out and watching the lobstermen at work. There's lots of beautiful scenery and short day trips to keep you occupied. All of the people we met were so friendly. Don't miss a trip to the Maine Sea Salt company. It's a great mom and pop business, and the owner is more than happy to give you a tour and explain how they harvest salt. We visited Jasper beach twice and only saw two people there. The sounds of the water hitting the rock beach was not like anything I'd heard before—so relaxing. The cottage was well appointed and there's a nice grocery store in Machias, along with several stores and a Walgreens where you can pick up anything you may need. Don't forget to eat at Helen's Restaurant at least once. If you don't have room for a slice of pie afterwards, take it to go. Much like your stay at the Frisky Fish cottage, you won't be disappointed!
Frisky Fish is a great spot!
The Frisky Fish Cottage
We chose to go to Maine in September this year and for the first time went a little further north than usual. Frisky Fish is a great location. The cottage is nicely furnished, the surroundings are lovely, the accommodations even for our pet, Molly (a beautiful basset hound) were complete right down to a nice bowl and some snacks!
We got a charge out of our closest neighbors – a flock of sheep! They came over to the fence to "chat" each time we took a walk.
Maria is a kind and responsive host.
The area is very quiet – not a lot to do, but we were looking for rest, not entertainment. We did find a couple of great spots to eat – Helen's and Bayview Takeout (Beal's Island – but worth the drive).
Here's a photo of my husband, our daughter and Molly enjoying some reading in the yard.
E.Horton
Wholesome, Nostalgic, and Absolutely Perfect
The Frisky Fish Cottage
We reluctantly returned home after a wonderful week at the Frisky Fish Cottage – and it was everything we could have dreamt and more. We rose early every morning and as my husband and I sipped our coffee in the chairs overlooking the harbor, our young boys ventured out to discover what sea treasures the low tide unveiled. Days were spent combing beaches, partaking in local cuisines, going on nature scavenger hunts, or visiting local shops. And every evening, you could find us in front of the bunkhouse as we challenged the boys to round after round of bocce and crochet. One day during our stay, the mist in the air lingered from morning until night – so we spent the late afternoon and evening with the boys in the bunkhouse – making blueberry ice cream in the ice cream ball, dancing, drumming, and laughing. The slow pace of Machiasport and surrounding areas was perfect for us to cast our stresses aside and focus solely on our family. These memories will last a lifetime. Thanks for everything!
The Hoods from Pennsylvania
The Real Maine Experience
Frisky Fish Cottage
The Frisky Fish is located in the heart of all things Maine—from lobster boats to sheep you have idyllic scenery at every view! The cottage is well appointed with everything you need. We did day trip hikes to Quoddy lighthouse, Cutler, and Roque Bluffs. Returning back to the cottage to recline in Adirondack chairs while we watched the tide come back in made for a perfect evening.
If you want to experience a unique, relaxing, and beautiful vacation, this is a great place. You will have a bit of a drive to get to groceries or restaurants but the scenery is amazing and time passes quickly. We ate a lobster roll some place new every day! If you love the outdoors and don't mind being off the beaten path, this is your spot!
The real maine
Frisky Fish Cottage
The beauty of the place is that it's not commercialized. The cottage is very cozy with everything you need. This is a great price for this rental. You can watch the lobster fisherman head out right from your window. Although not a super busy boat launch which is great too. We had a bald eagle right outside the door one morning which was really cool. Remember you are 45 minutes from New Brunswick Canada which is a great trip. They have a huge aquarium and chocolate factory museum. You drive through a moose National refugee to get there. The lobster and blueberries in Machias are really good. I recommend the riverside drive in for lobster rolls and Helens for lobster. Definitely check out the sea
M. Sherman
Quiet, Comfortable, and Soothing Place To Be
The Frisky Fish Cottage
We loved our time at Frisky Fish Cottage!. It is a quiet, comfortable, and soothing place to be with great views of the harbor, the tides, the activity of the lobstermen, and clammers. The kitchen is well-equipped and ready for cooking the fantastic lobsters we got from the lovely folks at The Lobster Trap just down the street. We enjoyed hanging out at the house and exploring the beaches that the host recommended to us. The cottage was also a great home base for exploring — we drove to Canada twice to explore Campobello Island and the Kingsbrae Gardens in New Brunswick. The host and the property manager were responsive to all inquiries and made us feel extremely welcome. We are already planning our next visit.
M. W.
Really nice accommodations and great scenery
Frisky Fish Cottage
Our week at the Frisky Fish was all we hoped it would be. Really nice accommodations, great scenery – lobsters traps and boats out the front and two sweet sheep out the side, and nice quiet nights. FDR's summer home in Campobello was just an hour away and Acadia Nat'l Park was just a little farther. We took Marie's advice and tried Helen's Restaurant in Machias, Mother Shucker's Lobster and also the lobster pound right down the street called The Lobster Trap. We would highly recommend all three. We cooked our own lobsters for dinner three times and it was the best we've ever had. We were introduced to "shedders" and now have a new favorite – so easy to crack and so sweet. Thank you so very much, Marie, for all your spot on tips and a great place to some back to each evening.
Karen from N. Carolina and her sister Latrece from Oregon
A Wonderfully Relaxing Vacation
The Frisky Fish Cottage
My husband and I thoroughly enjoyed ourselves at the "Frisky Fish" Cottage in Machiasport, Maine. The cottage was equipped with everything we needed for a fantastic vacation. Even the weather cooperated for the entire two-week stay. The harbor was very quiet and it was interesting to watch the fishermen go about their day. What a great way to spend some relaxing time at the cottage.
As well, we took advantage of riding around the area and spent some time in Lubec. Staying at the Frisky Fish was wonderful and we had a great time exploring the area. The cottage was immaculate when we arrived and everything was so clean and neat. We thoroughly enjoyed ourselves and we thank you for providing such a great vacation opportunity.
Sincerely,
K&J
Randolph, Vt.
J. G.
Frisky Fish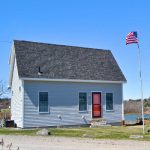 The Frisky Fish Cottage and Boathouse
We had such a wonderful time at the Frisky Fish! There was a sign in the vacation home saying, "Tonight's menu.. Lobster and Blueberry Pie." That set the tone for the week! The home is very clean and comfortable. It is fully stocked with the little extras and we truly felt it was our home away from home.
If you want to get away from the touristy areas and get a taste of the true feel of 'Down East Maine' this is the place for you. We enjoyed the relaxed vibe of the area and watching the fishing industry activities. There was an information book in the home full of ideas/pamphlets in case you would like to venture out on a day trip.
Hope to return again!
Linda M
A Little Slice of Heaven
The Frisky Fish Cottage and Boathouse
The Frisky Fish Cottage is a beautiful, comfortable, well-appointed, fully outfitted house right at the tip of a piece of land jutting into Bucks Harbor in Machiasport, Maine … way up there in Downeast, surrounded by water on 3 sides. We loved how fully relaxed we became within moments of landing there. We enjoyed campfires outside at night and loved eating at the table right on the harbor. It was lovely watching the lobster fishermen do their thing every day … coming and going on their own schedule. We bought lobsters from the Lobster Trap just around the corner and had everything we needed to cook, crack and eat them at the cottage. The beds were super comfortable. The kitchen was very well-equipped. The shower was great. Laundry right there. Wonderful complimentary coffee. What a dream vacation. We ate at Helen's a couple of times. Great food and pies. We also loved the Schnitzel Wagon … not your typical Maine fare, but delicious authentic German food. Both in Machias. Everywhere we drove, we saw stunning views of the water. If you are looking to kick back, relax, and take in the beauty, this is the place for you.
Frisky Fish Cottage
Frisky Fish Cottage and Boathouse
We loved the cottage, very airy and bright and clean. We visited the Boat House and loved it, we didn't stay in it but would if it had a bathroom and kitchen! I loved all the whimsical and different décor in both places. We found the whole atmosphere to be very relaxing, watched sea birds and fishermen and their boats, we kept the television off and read a lot. My favorite room is the one on the second floor of the Cottage. It overall was a wonderful experience! I am quite sure that the rusty barge in the cove is haunted.
Nancy B.
Great Family Vacation in DownEast Maine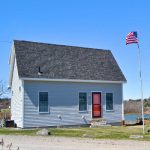 The Frisky Fish Cottage
My wife, and our 2 year old daughter, were looking for a relaxing, beautiful spot to spend time over the 4th of July and wow did we find it with the Frisky Fish Cottage! The home was located in a great spot, right on the water, away from the tourist crowds of Bar Harbor, and yet with ample beauty all around. Maria clearly pays attention to the details – the home was impeccable! Favorite activities had to be grilling each night with a wood fire in the metal pit, hiking at Cutler Bold Coast, swimming at Roque's, and sitting at Jasper listening to the rocks and the surf at sunset. Thank you Maria!
Slice of Heaven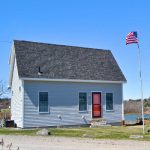 The Frisky Fish Cottage
Maria was a great and very responsive host. The Frisky Fish Cottage on Bucks Harbor at Finn Beach is a little slice of heaven on the Bold Coast of Maine! Enjoying a cup of coffee while looking out over the working Harbor as the fog rolls in and out of the cove is simply one of the best ways to start the day in Machiasport! Breakfast, lunch and/or dinner (we did all three) at Helen's is also required eating while visiting the area. If you are looking to avoid the crowds of the southern beaches of Maine or other New England coastal vacation destinations check out Wicked Awesome Maine vacation rentals. We travelled with our two young children and were a bit worried that it was too remote of a location for them to really enjoy the trip. We were pleasantly surprised that both of our kids had a blast and despite the quiet, remoteness of the Machiasport location everyone had a blast visiting the local beaches (Jasper Beach is a must; make sure to visit Riverside takeout for a picnic lunch on the beach) and enjoying the local seafood! The Frisky Fish Cottage is just an easy, short ride away for a day trip to Bar Harbor and an excursion of Diver Ed's Starfish Enterprise.
Wonderful Owners and Wonderful Locals
Frisky Fish Cottage
My fiancé and I decided to take a surprise vacation for a week, with no prior planning or arrangements. So we drove 28 hours from Atlanta GA to the great state of Maine. On 18 hours notice, Maria supplied us with a beautiful little cottage on the water for the week of thanksgiving!! These southern city folk were blown away by the kindness of Machias, and the wonderful seafood!
T,
Incredible time all around
THE FRISKY FISH COTTAGE
Incredible time all around.  Watched the leaves change before our eyes.  Am now experts on the lobster industry.  Watched for countless hours all the activity outside our window.  Beautiful home and so comfortable.  Loved Helen's downtown for wild blueberry pancakes.  Visit the Schoodic Point.  Best part of the week. Breathtaking.  Will definitely be back!!!
Fall Road Trip – All Girls!
THE FRISKY FISH COTTAGE
We had a fabulous time at the Frisky Fish The four of us take a fall road trip, all girls!  We love Maine and found our way here.  Lovely!  We shopped, we ate, we laughed and we ate.  The area is a perfect place to get away to.  We enjoyed the restaurants in town.  We loved watching the water levels change.  We are from Michigan, New York and Florida.  Make sure you get to Jasper Beach!  It is breathtaking. 
The Fabulous Frisky Fish!
THE FRISKY FISH
The Fabulous Frisky Fish!  A well-stocked oasis of relaxation on this industrious coastline.  Our arrival was bathed in sunshine and salt air, but the sweetness of it all lingers on our tongues still.
We must leave this place now, but, dear reader, may you enjoy your moments for as long memory holds.  Many small treasures you'll find in Machias — from the thrift shop – Bags O'Rags and the Hardware Store, which has coffee and canning delights not found back home.  A hop, skip and a jump to rocky, resplendent, Jasper Beach will astonish you – the infinite form and color of stones is best seen to be believed!  Each unique, countless…humanity in microcosm… We envy you, dear reader, who takes over place here to continue the adventure.  This Frisky Fish cottage is the perfect ship to sail on.  Oh. Helen's. Gorge.
Of you're especially fortunate, you, too, will enjoy roque Bluffs Park completely to yourselves!  So much beauty to behold.  Too little time.
Learned about the Fishing Industry
THE FRISKY FISH COTTAGE
This is our second visit to Maine and also our second visit to one of Maria's properties. We had a great time here.  Learned a bit about the fishing industry.  I think we found the last of the fresh blueberries here.  Helen's always comes highly recommended, but you might also like Tom's which is the Citgo gas station at the end of town.  Haddock chowder is wonderful.  Enjoyed the pirate festival.
Highly Recommended
THE FRISKY FISH COTTAGE
What a lovely cottage on the water.  We enjoyed watching the gulls and the fishing boats.  So glad for the remote, non-tourist location.  Our first visit to Maine – we tried lobster and fish chowder for the first time and loved it!  Helen's in Machias is a "must" for breakfast when you stay.  I've even found fresh Maine blueberries.  Highly Recommended.
Family Time
FEATHERBED ISLAND HOUSE
Great time for myself and three of my daughters, joined later in the week by one son and daughter in law for a couple days. Since they had not brought boots for the journey to the island the girls had a great time making them some from dollar store crocs and duct tape plus plastic bags. Central location for what we wanted to do, Lubec and Bar Harbor. Friendly locals and helpful information provided in the house. Since we were invited to eat whatever we found growing we had dandelion greens in our salad and bought strawberries to go with the rhubarb for a sauce on ice cream. Had a great lobster dinner cooked in the provided pot. Watched the eagles land on the trees on the island and deer nearly every day at the pond. If possible I will get back another year and bring my dog the next time. Believe everything that is written about the house. Owner keeps in touch so if there was a problem we could have let her know..
Loved It!
FEATHERBED ISLAND HOUSE
We could not have been more pleased with this wonderful home! The view was outstanding and it felt like "home". My kids played in the snow, explored the outside, and as a family we enjoyed fun filled game nights. The house itself was clean, the beds comfy and the liens clean. Every interaction with the owner via email was pleasent and informative. This space provided us with a great and memorable vacation that we will always remember.
What a Location!
FEATHERBED ISLAND HOUSE
So, we already love Maine, so we didn't need to be sold on it as a destination. And we love Maine enough that we go there at all times of the year, including the wonderfully named "mud season". Well, April was no surprise, still snow on the ground, and lots of mud. But the house where we stayed, and the views from the master bedroom and main living room made up for all of the mud outside! What a charming place – clean, just the right size for the four of us, and lots of niches for every member of the family to find a nice spot to read, knit or play. The kitchen was in great shape, and the linens were nice and clean. What a great adventure, and a great, well-located house!
Spectacular
FEATHERBED ISLAND HOUSE
We just returned from two weeks at the Featherbed Island House. This is a VERY special place – both the house itself – as well as the amazing setting. The photos as great but truly don't do it justice. IT IS DRAMATIC! And the house is just lovely. Very comfortable and stylish – with everything you need right there to cook, grill, relax, and just enjoy some down time. And there's really lots of great things to do in the area if you like to explore. The locals are great fun.. Maria and Gary have done a great job to make a DownEast vacation truly memorable.
Amazing Place
FEATHERBED ISLAND HOUSE
We just got back from a week at Featherbed Island and can't say enough wonderful things! The house itself is beautiful with fantastic views and has everything you could need- the owner had even left birthday candles which she told us about as it was my daughter's birthday! The property the house sits on is gorgeous. My favorite thing to do was sit out on the adirondack chairs and watch the seals, eagles, hummingbirds and other sea birds go by. It was so peaceful. My family also likes muck so we had a great time exploring the beach at low tide and wading in the water. We brought our kayaks and had fun adventures out with the seals. All around a great vacation!
A Beautiful House in an Almost Impossible Setting
FEATHERBED ISLAND HOUSE
It's been a week since I left the beautiful Featherbed Island house. I've been dreading doing this review because I just don't think I have the capacity to truly capture its beauty with words. We were all tired from the long 9 hour drive from NYC to Machiasport, but I will never forget how magical it was when we first arrived at the house. Nestled at the end of a small winding street, you drive pas a few other houses, some more derelict than others. Just as your expectations are dampened, the trees give way to reveal a beautiful house in an almost impossible setting. Having always stayed exclusively in hotels and resorts for vacations, this city kid could not have stayed at a more polarizing place than that I was used to. The air was clean with a lingering scent of sea, the sky a shade of blue I have rarely seen, and the noise, or rather the lack of was comforting.
And the view, every review should start and end with the view. Aside from the aesthetics of the house from the outside, the inside is equally beautiful. It also came equipped with everything we needed, we were able to cook full meals almost every night and ate our meals on the deck frequently. We made a trip to visit Acadia National Park, and another trip to Bangor during the day Hurricane Arthur hit to do some shopping. Otherwise we travelled mostly around the area, we went to Lubec and Campobello Island, saw a parade on 4th of July at Eastport and had a nice walk at Roque Bluff beach. The location, although a bit far from the big cities (2 hours to Acadia, 3 hours to Portland), did not prove to be too bad as we had plenty to do nearby.
It's honestly hard to think of anything negative from the trip. Mosquitos were probably the only thing that bothered us, they had a field day with me, perhaps NYC blood was something they haven't had in a while. We bought a few of those candles and tiki torches and sprayed ourselves to no avail. But what's a few bites to experience this retreat. All in all this was one of the best vacations I've taken. My parents could not stressing how much they loved it there and my sister had a field day instagraming away. The wifi in the house was fast enough to upload pictures and carry about our usual needs. On our last day of the stay, Hurricane Arthur hit and we lost electricity. Maria was extremely helpful, we didn't mind too much since this is completely out of their control. We ended up playing cards over candle lights and had a blast star gazing.
Surrounded by Views of Water
FEATHERBED ISLAND HOUSE
This was my first extended stay in Down East Maine, and I definitely will be coming back to Featherbed Island House. From my bed the moment I woke up, until dark, I was surrounded by views of water, the panorama of Machias Bay which can be seen from every room in the front of the house, including two bedrooms- you can actually see the water from the bed! To the rear of the property there is a tranquil pond, one of the best things about this house is the natural beauty of the setting. An apple tree was in full bloom, the yard was full of lupines and poppies, and we saw wildlife every day, from bald eagles to deer to seals playing in the water. At low tide we walked across the estuary to historic Featherbed Island, with its dense forest and rocky bluffs, it's just beautiful. I have stayed in many rental houses before, but this is easily the best equipped. There was any kind of kitchen item I needed, from fondue pot to blender and everything in between. The house is beautifully decorated with a combination of lovely Maine antiques and comfortable modern furniture. We loved the fire pit overlooking the water , where we made s'mores one night, and after dark and on the occasional rainy day, there were books, games, music to listen to, including an old Victorola complete with records in addition to the TV and wifi. Staying at Featherbed Island House was such a great experience that while I was there I started searching for a house to buy in the area. Let me tell you, every house I looked at paled in comparison to the charm of Featherbed Island House itself, and the amazing water views that are seen from it. I will keep looking for my own home in Maine, but until I find it, I will be back to Featherbed Island House as soon as I can- which will have to be in the fall- it is already booked through September. I can already imagine sitting under the pergola on the deck, enjoying the fall colors and the beautiful water views that never get old.